When it comes to doing things right, the saying "There is no one right way" rings true. However, there are definitely wrong ways of doing things. The same goes for your Salesforce Org. There could be some simple things you overlook, forgot about, or you're simply optimistic that nothing bad is going to happen if you do a certain process in a certain way.
Here are some ways you can sabotage your own Salesforce Org.
1. No Documentation
One of the best ways to sabotage your Salesforce Org is to ignore the benefits of documenting changes and processes. This will make it exceptionally challenging when you're troubleshooting as you will find it hard to understand the relationships between processes, fields, flows, etc.
2. Don't Use Profiles
Here's a tip: You should not use the out of the box Salesforce profiles, and under no normal circumstances should you assign everyone the system admin profile. Invest some time sorting out your profiles and assign the correct access level to your users. Trust me on this.
3. Forget to Activate Field History Tracking
Keeping track of field changes and the values in those fields is extremely important. Firstly for the users, secondly for troubleshooting and thirdly for auditing. This will make it easy to revert to any prior values. There are other benefits to that, but overall I would encourage you to activate History Tracking.
4. Don't Use Sandboxes for Development
"Let's just change this field in production. Nothing bad is going to happen." – Famous last words. Yes, there are numerous changes that can be done in production but just because you can doesn't mean you should. Especially when you have entire business processes already built. Depending on where you are on your Salesforce implementation journey, the level of flexibility to make those changes in production will be different. In case it wasn't already clear, use a Sandbox.

5. Never Run Proper Tests
Before you deploy something in production, never forget to test. It has happened to me so many times in the past; I presumed that my process builder was perfect. Only when I tested it was I able to find out that my logic was wrong. Some fields were not accessible by the user, etc. Test it, pass it, then deploy it.
6. Don't Use Reports and Dashboards
"Let's export it into Excel and we can build some charts from there." – WRONG. Salesforce is live, all the data you will need is there. For 99% of cases, you will not need to export data and put it into Excel. By the time you have exported it and made some charts, the information would already have been outdated. Don't complicate your life. Use the Reports and Dashboard in Salesforce.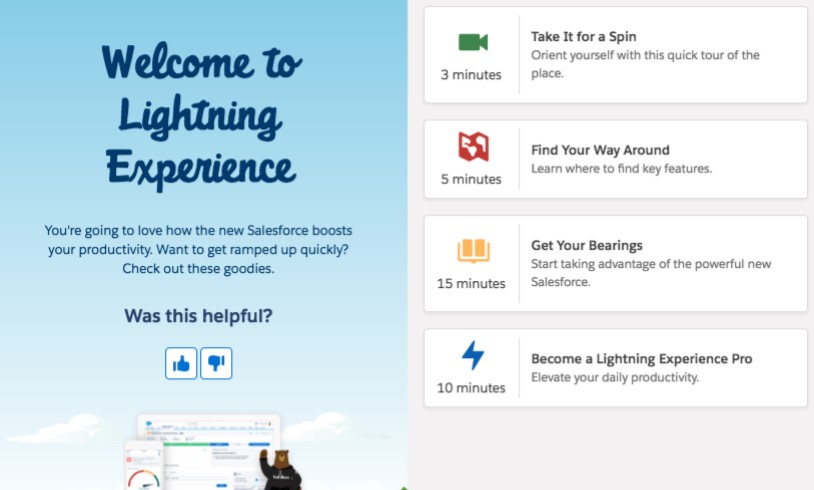 7. User Onboarding
"When you get a new hire, just pass them a Salesforce account and let him be." – Wrong Again. This applies to both new users and when finishing an implementation. Always support your users during the onboarding process. Not specific to the Org, but something that will affect the uptake and success of it.
8. Failing to Send Out Release Notes
When you configure a new feature in Salesforce, you should make your users aware of it. It can be as simple as an email that you send a few days before. The other option is to have a Roadmap set-up where users get notifications when certain user stories are ready for production. Don't surprise your users with major updates.
9. Configuration Overkill
When you have multiple triggers, multiple record types, multiple page layouts for each record type, and you are almost at the limit of your validation rules and on top of that you have some process builders, flows and workflows on the same object, you should probably pause, take a step back, and rethink your implementation. Do not go overboard with your configuration.
10. Don't Optimize
We have Flows or Process Builder. Is it really that important to have 25 workflow rules on the same object? Can you optimize that? Salesforce has the Optimizer report which gives you recommendations on how to best optimize your Org.
11. Don't Keep-up with Salesforce
Salesforce has 3 major releases per year. This is the reason you should always be on the lookout for new information regarding Salesforce features. Verify what updates you get automatically, as your users may end up with unexpected features. Also, check the Critical Updates.
Bonus:
Don't use Help Text
If you make a field and is part of a business process or it is not obvious to everyone, then make sure you add Help Text.
When working on your Salesforce Org, take the extra steps needed to produce quality work and making sure that if and when something wrong happens along the way, it will be easy to reverse and remedy any mistakes made. These are just some of the ways you could sabotage your own Salesforce Org but we highly recommend you don't.
Podcast Episodes
These tips have been gathered from discussions and interviews on the SFDC Consultant Podcasts with a range of guests with a vast amount of experience.
If you want to improve the way you manage your Salesforce Org, these are a few episodes that you should consider listening to: